Back to Towers Online

E-mail Story
Banquet, Bandfest bring bountiful excitement, enjoyment for Boyce students
April 23, 2007
By Garrett E. Wishall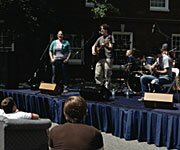 A band from the 2006 Bandfest jams it up in Carver Circle before an audience of Boyce students. Photo by John Gill
Recognition and relaxation await Boyce students in two upcoming events to close out the spring semester.

The annual spring banquet and Bandfest will be held April 27 and April 28 respectively, honoring several students for their leadership and accomplishments this year and providing students a chance for fellowship and relaxation before finals.

The theme for this year's banquet, to be held at 6:30 p.m. in Heritage Hall, is "an evening in black and white." Lauren Farmer, interim associate director of Student Life and Women's Life at Boyce, said students will don black and white attire for the event. Decorations will reflect the 1940s era via pictures of movie stars from that period on tables and the showing of a silent black and white film.

Farmer said one goal of the banquet is to honor students for achievements during the school year.

"We will recognize current student leaders, from 2006-07, and future student leaders, from 2007-08," she said. "We will also recognize the faculty's choice for outstanding graduate, the students' choice for the servant towel award winner and graduating seniors. The banquet also allows us to celebrate the end of an academic school year and provides fellowship with peers and professors."

Jon McKeithen, Boyce residency director, explained that the servant towel award is given to a student who has done an outstanding job of service without recognition. Jessica Vaughn won the student-nominated award last year.

While students enjoy dinner at the banquet, a slide show of pictures from events throughout the school year will be shown, Farmer said. She also noted that live piano music will welcome students to the event and trivia games will be a part of the fun.

After the flashback to the 1940s, students will leap forwards to the 21st century at Bandfest, Saturday, April 28. From 11 a.m.-3 p.m., Carver Circle will be filled with jamming student bands, food and fellowship.

Farmer said each band is required to have at least one Boyce student. She said Bandfest allows students to relax and enjoy one another's company.

"Bandfest provides an opportunity for students to display their musical talents to other students," she said. "It is sort of an end of the year celebration as the semester wraps up and students prepare to graduate or go home for summer break."

Hamburgers and hot dogs hot off the grill will be served for $1 throughout the event, Farmer said.

Both the spring banquet and Bandfest are sponsored by the Boyce student council. Other student council-sponsored events include men's and ladies' nights and the Focus prayer and worship evening once each semester. The spring retreat and Thunder over Louisville outreach are sponsored by the student council during the spring semester.