Larry J. Purcell
---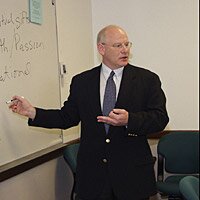 Spouse: Terri (28 years)

Children: Dawn, married to Michael Yarbrough

Grandchildren: Abbygail, 2 1/2 years-old

Pets: I have a picture of a dog I once loved.

An interesting fact about your family: We suffered for the Lord living in Hawaii for 3 years.

Hometown: LaCenter, Ky.

Current church: Cedar Creek Baptist Church, Louisville, Ky.

Ministry passion: My passion is to seek every opportunity daily to glorify God. This takes my ordinary life and gives it extraordinary purpose and passion, whatever the circumstances or challenges.

What do you like most about teaching: Interaction with the students during and after class sessions feeds my passion and keeps me focused upon the task of teaching. The task of teaching is to teach students, not lessons.

What books, beside the Bible, have most influenced you: J. Oswald Sanders, Spiritual Leadership; Thom Rainer, Eating the Elephant; C.H. Spurgeon, Lectures To My Students

Hobbies: Jogging, riding horses or motorcycles, travel, reading, touring Civil War sites

Most influential persons in your life: In maturing, my dad and mom; in ministry, Rev. Bob Swift, pastor of First Baptist Church, Mayfield, Ky.; in keeping my feet on the ground daily, my wife, Terri

Favorite Southern Seminary memory: Walking across the stage to receive my doctorate, and actually finding it in the folder

Most embarrassing moment: During my doctoral dissertation defense, I was allowed to use a PowerPoint presentation to present data and findings. The data projector failed and I had to improvise.

Something surprising students might not know about you: I was a boxer and kick boxer for a few years.

Favorite author: Thom Rainer

Favorite preacher: R. Albert Mohler Jr.

Favorite musician: James Taylor

Favorite TV show: "Walker Texas Ranger" (I still watch the reruns)

A word of wisdom for Towers readers: I was given wisdom by a professor while in seminary that has stuck. The reward does not go to the smartest, but to the most diligent.