J. Mark Terry
---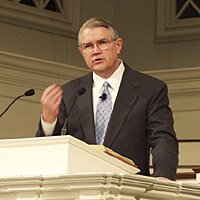 Spouse: Barbara (31 years)
Children: Joanna (26) and Micah (23)
An interesting fact about your family: We lived in Philippines for 13 years.
Hometown: Siloam Springs, Ark.
Church: Bloomfield Baptist Church
Current local church ministry: Teaching pastor
Ministry philosophy: Multiplying disciples and churches is the key to fulfilling the Great Commission.
Ministry passion: Training missionaries
What do you like most about teaching: Seeing students grow and graduate
What influenced your decision to come to Southern Seminary:
Desire to work with advanced students
What books, besides the Bible, have most influenced you: Donald McGavran's Understanding Church Growth and Melvin Hodges' The Indigenous Church
Favorite Southern Seminary memory: Signing the Abstract of Principles
Something surprising students might not know about you: I was a football trainer for seven years.
Most embarrassing moment: I was praying in chapel, and I thanked God that a student's wife had safely delivered her baby. I prayed, "Thank you, Lord, that everything came out all right."
Hobbies: Reading murder mysteries, walking
Favorite author: Roland Allen
Favorite music group: The Gaither Vocal Band
Favorite movie: Casablanca
Favorite TV show: Atlanta Braves baseball
A word of wisdom for Towers readers: Maintain an active devotional life while at seminary.