Barry Joslin
---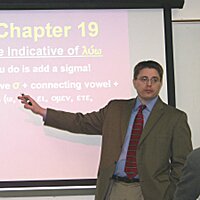 Position: Instructor of Christian Theology, Boyce College

Spouse: Jessica (5 years)

Children: Haddon Walter (born Dec. 29, 2004)

Pets: One cat that I inherited at the wedding. Her name is Queen Elizabeth.

An interesting fact about your family: My wife and I met at Dallas Theological Seminary, and graduated on the same day in 2001. I am a third generation Southern Baptist minister.

Hometown: DeRidder, La. Or as I like to call it, "Mayberry."

Current church: Ninth and O Baptist

Current local church ministry: College and singles' worship leader; Sunday School outreach coordinator for T.J. Betts' class

Hobbies: I love to play the guitar and read, and spend time with Jess and Haddon. I thank the Lord for family, and try not to take them for granted.

Most influential people in your life: Long dead — Spurgeon and Edwards. I will read them until I am unable to read any longer. Recently deceased — My dad's dad. He was a rural Mississippi SBC pastor for 50+ years. He was a man of prayer. He was a spiritual hero and giant to me, and his faithfulness to the Lord and his family, even in the dark hours, spoke volumes. I wish so much that he was still alive. Living — Pastor Rex Blankenship of Springs of Grace Baptist Church in Shreveport, La. He and the elders ordained me to the ministry, and he is one of the best expositors I have ever heard. Also, Tommy Nelson of Denton Bible Church. Through his teaching ministry he has taught me as much as any professor in the past.

Favorite Southern Seminary memory: Passing comprehensive exams

Something surprising students might not know about you: I am a NASCAR fan and I love guns. As the saying goes, "You can take the boy out of the South, but you can't take the South out of the boy."

Ministry philosophy: Theological education is worship. The guiding verse in my classes is Jesus' command that reiterates the Old Testament to love the Lord with heart and mind. Academic rigor is worship. Greater knowledge of God must lead to greater love of God, which in turn leads to a greater love for people.

What books, beside the Bible, have most influenced you and why: Jonathan Edwards' Religious Affections. John Hannah at Dallas Seminary introduced me to Edwards, and this book was life-altering. There is no divorce between loving the Lord with your heart and with your mind. I read this book and was convinced I was lost. Hannah told me, "If you read Religious Affections and are convinced you are saved, you are likely not. If you are convinced you are lost, you are likely saved."

A word of wisdom for Towers readers: "Be it great or be it small, do it well or not at all." That's a proverb from my grandfather.