J. D. Payne
---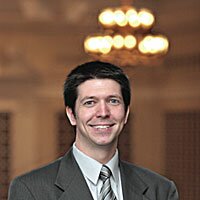 Spouse's name: Sarah

How long married: 11 years

Children's names and ages: Hannah (4), Rachel (2), Joel (four months)

Hometown: Corbin, Ky.

Current church: Crossing Church. We're a new congregation meeting for worship on Sundays at Ballard High School.

Hobbies: Coffee, guitar and reading

Most influential person in your life: My wife

Favorite Southern Seminary memory: Being invited to serve as a member of the faculty.

Something surprising students might not know about you: I enjoy watching PBS cooking shows, but have been upset lately since they have changed the programming schedule and are always showing "Sewing with Nancy" and "Working with Stained Glass."

What books, beside the Bible, have most influenced you and why: Augustine, "Anti-Pelagian Writings," -because of his emphasis on the role of God in salvation. Martin Luther, "The Bondage of the Will," because of his excellent exposition of Scripture related to God's sovereignty. Roland Allen, "Missionary Methods: St. Paul's or Ours?," because of the emphasis on indigenous church planting and the need to return to Scripture for guidance in missionary work. Donald McGavran, "Understanding Church Growth," because of the emphasis on biblical church growth/planting occurring through making disciples. Findley Edge, "The Doctrine of the Laity," because of his emphasis on equipping, empowering and releasing the people of God for ministry.

What influenced your decision to come to Southern Seminary: Several years ago the Lord gave me a passion for teaching in general and Southern Seminary in particular. My wife and I prayed for four years if it was the Lord's will that He open an opportunity to serve with the school. When the invitation came to teach evangelism and church planting courses, of course we were ready to go.

Ministry philosophy: My philosophy is to walk with one foot in the field and one foot in the classroom. In order for me to be the most effective in training and multiplying leaders for the twenty-first century, I must minister in both worlds. It is easy for me to isolate myself from the need that exists among the people in the highways and hedges of Louisville and throughout the world. For the sake of my calling and my students, I must remain significantly involved in service through the local church.

Ministry passion: Equipping, empowering and releasing people through the ministries of their local churches to make disciples, baptize and teach others to obey all that Christ commanded. This passion involves the multiplication of disciples, leaders and churches throughout the world.

What do you like most about teaching: I delight in seeing my students grow in the faith and to hear and see them accomplish more than I could ever accomplish on my own doing Kingdom work.

List one of your favorites movies: I would say my favorite was "Anne of Green Gables" or "The Sound of Music" but many people would make fun of me, so I'll say a profound movie like "Napoleon Dynamite."