Hayward Armstrong
---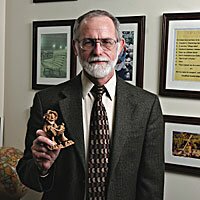 Spouse's name/length of marriage: Sherra, 34 years

Children's names: Rachel Wright (married to Eric), Taylor (married to Darrah)

Grandchildren: Callie (8), Abby (5)

Hometown: Huxford, Ala.

Current church: Walnut Street Baptist Church

Current local church ministry: Discipleship training at Iglesia Bautista Nueva Jerusalen

Hobbies: Gardening; restoring a '52 Chevy pickup that I found in a junkyard in 1998.

Most influential person in your life: My wife

Favorite Southern Seminary memory: Two stand out. One was the day when a totally unexpected phone call came from Russell D. Moore asking if I might be interested in coming to Southern. The second was my first anniversary here when my office staff wrote and sang a song to me called "Hayward A. – The Distance Ed. King," sung to the tune of "Ethylene the Truck Stop Queen."

What books, beside the Bible, have most influenced you and why: "The Mind of Christ," by T.W. Hunt, because the truths pragmatically reflected there have helped me to stay focused on what is important and been a useful tool to teach others the same; "The Practice of the Presence of God," by Brother Lawrence, because since the time I was first introduced to it more than 30 years ago, it has been a reminder of the profundity of relating simply to the God of the universe.

What influenced your decision to come to Southern Seminary: In 2002, I took a day of personal retreat to evaluate my first 50 years and dream about the next fifty. Through an intentional analysis of the many opportunities the Lord had given me, I discovered that my favorite ministries in the past were related to teaching and administration. As I prayed about the future, I carefully considered the kinds of assignments the Lord might still have for me. Teaching/administration at a seminary or college topped the list. Not many months later, Moore called.

Ministry philosophy: Work hard at current assignment; leave the future to God.

Ministry passion: That training for ministry be available to all who need it

What do you like most about teaching: Affective dialogue

Life Bible verse: Among my favorites are Psalm 34:1, Philippians 4:13, James 1:4, and Proverbs 4:13.

List your favorite: Authors — Anne Perry, Robertson McQuilkin. Preachers — Darrell Boggs, Hebert Palomino. Music groups — Gaither Vocal Band. Movies — "Of Mice and Men." TV shows – Monk. Restaurants – KTs. Vacation spots — Bellavista, near Puerto Varas, Chile.