Robert A. Vogel
---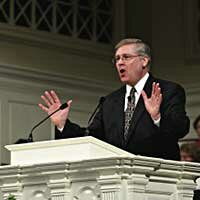 Spouse's name: Kathy

How long married: 35 years (36 years on May 22)

Children's names and ages: John (33), Janet (31) and Julie (29)

Grandchildren: McKenzie (10), Lily (7), Benjamin (4), Liam (5), Elizabeth (3), Elaina (5), Reagan (3) and Xander (birth is imminent)

Hometown: Sterling, Colo.

Current church: Member of Highview Baptist Church

Current local church ministry: Interim pastor at Cedar Creek Baptist Church

Hobbies: Growing roses, building things

Most influential person in your life: Kathy

Favorite Southern Seminary memory: Signing the Abstract of Principles at the Fall 2003 convocation.

Something surprising students might not know about you: Long before I ever dreamed of teaching at Southern Seminary, I wrote an M.A. thesis at Portland State University on the preaching theory and practice of John Albert Broadus.

What books, beside the Bible, have most influenced you and why: A. W. Tozer, "The Knowledge of the Holy." This book instills a high view of God. Any of the works of Francis Schaeffer; he was a great apologist and provoked me to think about key issues of worldview.

What influenced your decision to come to Southern Seminary: The persistent encouragement and counsel of Bruce Ware, the unwavering commitments to the priority of expository preaching of R. Albert Mohler Jr., Hershael York and Danny Akin, and the opportunity to teach so many students called of God to the preaching ministry.

Ministry philosophy: Two texts express this pretty well for me. Colossians 1:28-29: "We proclaim Him, admonishing every man and teaching every man with all wisdom, so that we may present every man complete in Christ. For this purpose also I labor, striving according to His power which mightily works within me." And 2 Timothy 3:16-4:2: "All Scripture is inspired by God and profitable for teaching, for reproof, for correction, for training in righteousness; so that the man of God by be adequate, equipped for every good work.... Preach the Word; be ready in season and out of season; reprove, rebuke, exhort with great patience and instruction."

Ministry passion: Preaching! And observing the work of God in transforming lives.

What do you like most about teaching: Engaging students in the commitments and practices of expository preaching, and hearing them preach as they have been taught.

Life Bible verse: Galatians 2:20: "I have been crucified with Christ; and it is no longer I who live, but Christ lives in me; and the life which I now live in the flesh I live by faith in the Son of God, who loved me and gave Himself up for me."

List one of your favorite: Authors – Francis Schaeffer. Preachers – Alistair Begg. Courses that you teach – American Preaching. Music artists – Steve Green. Movies – "What About Bob?" TV shows – Monk. Restaurants – Logan's Roadhouse. Vacation spots – the Oregon coast.