Printer-friendly Version

E-mail Story
More than 250 high school students learn biblical view of sex at conference
January 29, 2007
By Ashley Andrews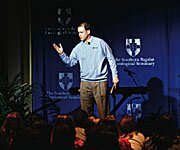 Jimmy Scroggins, dean of Boyce College, took students to Genesis in presenting a biblical view of sex at the Give Me an Answer high school conference, Jan. 19-20. "Supercharged: A Biblical Worldview of Sex and Culture," was the topic of the conference and more than 250 students from across the United States attended.
More than 250 high school students filled the corridors and rooms of Norton Hall, Jan. 19-20, for the second annual Give Me an Answer high school conference at The Southern Baptist Theological Seminary.

This was the event's first year as a stand-alone conference. Last year's event took place in conjunction with the seminary's collegiate conference. Conference organizer Dan Dewitt, supervisor of Boyce College recruiting, said the strong turnout and the favorable response of attendees made the conference a success.

"We met our goal of having the same number of students as last year, and the feedback from students who attended and youth pastors who brought their youth groups has been extremely positive," he said. "We felt like the students walked away having benefited greatly from both our general sessions and the elective sessions."

"Supercharged: A Biblical Worldview of Sex and Culture," was the title of the event, which is designed to introduce high school students to basic principals of a biblical worldview, DeWitt said.

Keynote speakers included Russell D. Moore, James A. Scroggins and Chad Brand, professor of Christian theology at Southern Seminary and associate dean at Boyce College. Josh Wilson, Sparrow Records recording artist, and the Boyce ensemble Aletheia led worship at the event.

Scroggins, dean of Boyce College, began the conference the evening of Jan. 19 by pointing to Genesis 1 as the starting point for understanding sexuality.

"The message of culture is that sex is spontaneous and irresistible," said Scroggins. "The fact that we are made in the image of God means we [should] make spiritual decisions in the area of sex."

Working from Genesis 2, Scroggins explained that sex is a gift from God and attraction to the opposite gender is not wrong. He noted that God created all of us with a desire for relationship, and then Scroggins turned to the Gospel, encouraging students to develop and prioritize a relationship with Christ.

Moore, senior vice president of academic administration and dean of the School of Theology at Southern Seminary, followed Scroggins and said that sex points to something greater than mere morals and the promise to "save myself for marriage."

"We often think of sex only in terms of morality," he said. "The problem is we view sex as boring. It is not exciting because it is not intact with the mystery of the universe (the Gospel)."

A push for personal autonomy, and doctrines of an animalistic humanity and a redefined reality keep people from understanding the mystery behind sex, Moore said.

"To answer this problem we must ask, why did God put the desire (for sexual union) in our hearts?" Moore asked.

The answer, he argued, is ultimately found in the person of Jesus Christ.

Moore and Brand spoke in plenary sessions Jan. 20, and students also attended three elective sessions on a variety of topics.

Elective session topics and speakers included "Should I kiss dating goodbye?" with DeWitt presenting multiple theories of dating and courtship, and "How has sex influenced the arts?" taught by Jim Orrick, professor of literature and culture and Boyce.

Barry Joslin, assistant professor of Christian theology at Boyce, led sessions on "What does biblical manhood and womanhood look like in real life?" and "A biblical theology of sex" and Travis Kerns, instructor of Christian worldview and apologetics at Boyce, looked at how a Christian worldview of sex differs from other religions.

DeWitt said Boyce would host a similar event, "Apologetics University," in the summer for high school students who want more training in how to biblically interact with culture. The three-day, mini-camp will have a strong apologetic emphasis and details will be available in the future at www.boycecollege.com.