Printer-friendly Version

E-mail Story
With an eye toward next year, Bulldogs look to build on Cin. Christian win
March 12, 2007
By Garrett E. Wishall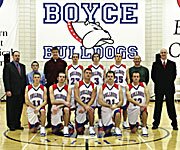 The Boyce Bulldogs ended the season on a high note with a 71-67 victory over No. 4 Cincinnati Christian in a first round Mid-East Region tournament game. Photo by John Gill
Boyce Bulldogs 71, No. 4 Cincinnati Christian Golden Eagles, 67.

With just two regular season wins entering the postseason, the Bulldogs victory over the fourth-ranked Golden Eagles in its first round Mid-East Region tournament game enabled the squad to end its inaugural season on a high note.

The Bulldogs lost to No. 6 Johnson Bible College in the second round to end its season, but Boyce head coach Casey Smallwood said the win over Cincinnati Christian rewarded the team for its' character.

"The guys handled adversity well [this year]," he said. "We lost a coach. We had a rough schedule, playing a lot of teams from higher conferences. They stayed faithful, worked hard and were patient. All year long, we talked about things being a process and we wanted to be playing well at tournament time and that is what we did."

Co-team captain John Cabal said the tournament victory points to encouraging things for next season.

"It was a great, positive way to end the season," he said. "Even the loss to Johnson was a close game. To me it shined a bright light for the future and next year hopefully we can win a lot more of those types of games."

Ten games into the Bulldogs inaugural season Boyce head coach Bryce Hibbard announced his resignation, citing personal and family reasons. Smallwood was promoted from assistant to head coach and led the program to its first win, Jan. 20, over Shawnee Baptist College. The Bulldogs topped Shawnee Baptist again Feb. 13 before the monumental win over Cincinnati Christian in the regional tournament.

Bulldogs guard and co-team captain Greg Gibson earned Honorable Mention All-Mid-East region honors as he led the squad in scoring, and ranked third nationally, at 23.63 points per game. Cabal, a forward, finished third in the nation in rebounding at 11.08 per game and was second on the team in scoring, averaging 17 points per game.

Smallwood said the athleticism and leadership of Gibson and Cabal were instrumental in the team's development this year.

"Greg is a player who — when he really wants to — makes everyone around him better and those are the kind of players you want," he said. "Greg is athletic and was the best offensive player we had. He could always find a way to get to the rim.

"If it weren't for John we would not have been able to be successful rebounding," Smallwood continued. "John is a natural leader and the guys really respect him. When he talks, the guys listen. I felt like John and Greg both did not receive enough credit [nationally] for what they did this year."

Boyce competes in the National Christian Collegiate Athletic Association Division II, but several of its games this season came against teams from higher levels, including several NAIA Division I and II opponents and one NCAA Division II school.

To keep travel costs down, Athletic Director Lee Sexton said he scheduled games against teams in close proximity to Boyce. For next season, Smallwood has contracted some games against higher-level teams, where Boyce will get paid to play. This will help cover travel costs and will allow the Bulldogs to play a full conference schedule including home and away games against each of the seven teams in their NCCAA II region.

Since the season ended, Smallwood has been busy recruiting, calling coaches and scouting players at high school and junior college games. Smallwood said he faces the dual challenge of finding players who are both good basketball players and solid Christians who sense a call to vocational ministry.

"The main thing is that the players I recruit have to be called to ministry and that we are not sacrificing anything in the area of integrity," he said. "That is the most difficult part, because guys will tell you what you want to hear. So, right now it is mandatory that guys who are being recruited must spend time with guys on the team so that we can see where there heart is, spiritually."

Cabal said the camaraderie among the players was a highlight of the inaugural campaign.

"Our friendships grew through our Bible studies," he said. "We gained some real friends who we could go to with problems, and to discuss various issues. It was a great experience relationally.

"We have laid a foundation for a solid program and have the basic groundwork in place to where we can grow and improve. I see us as being at a position where we can move forward."