Printer-friendly Version

E-mail Story
Students share Gospel in Guatemala; McClellan addresses missionary call
October 09, 2006
By Garrett E. Wishall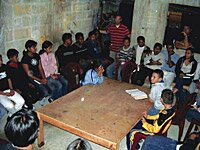 Jimmy Winfrey (red shirt) and several other Boyce students work with children during a summer mission trip in Guatemala. Photo from Jimmy Winfrey
The strength to be a missionary comes not from human skill or intellect, but from receiving a compelling call from God to take the Gospel to unbelievers, Mark McClellan said at a missions emphasis Boyce chapel service, Sept. 20.

Speaking from 2 Corinthians 4:1-10, McClellan, professor of Christian theology and missions at Boyce College, said that while excitement is an aid to missions work having a sense of a call is what enables missionaries to persevere.

"Some people may have an adventurous spirit about going to another country [and being a missionary] and this is fine, but it will not sustain you in missionary work," he said. "What sustains you is a compelling call to missions. If you have received this calling, you will have an uneasiness about your life unless you are doing missionary work."

McClellan noted that such a calling is not something Christians earn, but something they receive.

"God will call you because of His grace and bestow His mercy upon you for His purposes," he said. "You will never be good enough to be a missionary. You will be a missionary because God calls you to be a missionary."

Building on the idea that being a missionary is more about calling than ability, McClellan said the power of the Christian message does not lie in clever presentation but in the work of the Holy Spirit.

"Paul was not delivering some kind of creative testimony, he was sharing the content of the Gospel of Jesus Christ," he said. "What is power for the missionary? Power is the Gospel, power is the Holy Spirit and power is prayer."

In addition to McClellan's sermon, students who went on a summer mission trip to Guatemala with McClellan shared testimonies and photos from the trip. McClellan said last year he took a group of seminary and Boyce students to Guatemala, where he served as a missionary for more than 10 years. This year's trip included only Boyce students. Seven students accompanied McClellan on the trip from May 22-June 3.

The group spent the first week working on the island of San Pedro. Jimmy Winfrey, who went on the trip in 2005 and 2006, said during that week they worked with a local pastor named Isac, who was involved with a local Christian school. Winfrey said they were usually working with 200 children during the day and 100 in the evenings, as well as doing some door-to-door evangelism. Student Jay Tigner said he learned a lot from pastor Isac.

"One thing I loved about pastor Isac was that he had a genuine love for the children," he said. "It was a great blessing to watch Isac work with the children and with his church."

The second week consisted primarily of door-to-door evangelism, Winfrey said, as the group partnered with a local pastor named Efrain who they worked with last year in the city of Huehuetenago. Winfrey said the group painted Efrain's church, did a lot of door-to-door evangelism and worked with local youth in Huehuetenago.

Several members of the group testified to the spiritual darkness that seemed to loom over the city. Lizy Mejia, a student at Boyce, served as the group's translator and shared about a particularly draining and moving experience she had.

"I talked to one young lady whose mom was involved in witchcraft," she said. "We were able to talk to her and pray with her and she professed faith in Christ that night after two hours of intense spiritual warfare. You read about defeating darkness in the Bible, but I was so humbled to be used to actually do that."

Student Katy Barnes said one key element of the second week was a youth forum the group hosted one evening.

"We talked to the youth, developed relationships with them and learned about their background," she said. "One girl asked how she could surround herself with Christian friends. It was interesting to see that the problems we deal with are the same as the problems that they deal with."

Tigner said he learned that missions work can be done anywhere and anytime.

"As I went on this trip God worked in me and I now don't see the mission field as numbers, but I see it as people," he said. "I also realized that you don't have to go overseas to do missions, but everywhere you are is a mission field."