Printer-friendly Version

E-mail Story
Boyce Bulldogs prepare to make an impact on the basketball court
October 23, 2006
By Garrett E. Wishall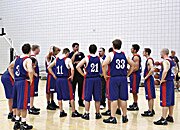 Boyce head basketball coach Bryce Hibbard addresses the team during a practice. Photo by John Gill
The squeak of sneakers on hardwood and the sound of fans rattling bleachers and cheering for their team will fill the Health and Recreation Center at The Southern Baptist Theological Seminary on Nov. 4.

On that date, the Boyce Bulldog basketball team will take the court against Johnson Bible College in the home opener of its inaugural season of intercollegiate athletics.

Boyce head basketball coach Bryce Hibbard has coached basketball for 20 years and said he is excited about being a part of a new program.

"I've coached in public high schools for 20 years, and everywhere I've gone there has been an established team," he said. "I didn't realize the privilege of having an established team until I came to this situation where we are starting a team and everyone is excited about having something to do on Tuesday and Friday nights."

Lee Sexton, supervisor of recreation and student activities at The Southern Baptist Theological Seminary, agreed that the Bulldogs would give a boost to student life.

"Having a basketball team will enhance the student life experience at Boyce College," he said. "It will create a more traditional collegiate atmosphere at Boyce by providing an athletic experience for students both as participants and as spectators."

The Bulldogs will compete this year in the Mid-East Region of the National Christian Collegiate Athletic Association II (NCCAA). The NCCAA was incorporated in 1968 to provide a Christian-based organization that promotes outreach and ministry, and maintains, enhances and promotes intercollegiate athletic competition in a Christian perspective.

Hibbard's main goal for the team fits those purposes.

"The main thing that we have talked about since the beginning of practice is really living out Colossians 3:23, seeking to do whatever we do with all our heart, living for the glory of the Lord and not for men," he said. "Whether we are practicing, playing games or eating at a restaurant we want our team to show that Christ is living through them."

While initially it may be difficult to win games, the Bulldogs could still succeed by bringing glory to God through the manner in which they play, Hibbard said.

"We are starting something brand new, with a group of guys who were already at school and wanted to give basketball a shot," he said. "If we are giving our best on the court, we may not win on the scoreboard, but we will win in God's eyes and that is more important."

Boyce begins its season Oct. 28 with a game at Mid-Continent University in Mayfield, Ky., before the home opener. Sexton developed the schedule and said the Bulldogs would play all of their regional opponents and a mix of other teams.

Sexton said each region in the NCCAA is treated like a conference, with the winner of each regional tournament at the end of the year qualifying for the NCCAA national tournament. Last year, Johnson Bible College — the Bulldogs first home opponent — finished as the top team in the Mid-East region with a 27-11 record and No. 6 national ranking entering the national tournament.

To compete with such teams, Hibbard said the Bulldogs will have to use speed, effort and quickness to help them overcome their lack of size.

"With our team, we are going to have to run and press people and take the ball away," he said. "I told the board of trustees they may want to start watching tennis matches to get their neck in shape, because we are going to have to run the ball up and down the floor. Our obvious weakness is a lack of size, but hopefully we can overcome that with effort and quickness."

Hibbard said the unity of the Bulldogs encourages him and he hopes students appreciate the effort the team puts forth.

"Coming from public school, it is neat that all of these guys are Christians and have a common goal of wanting to be united and serve each other on the court," he said. "We are excited about getting started and would like to see a lot of student support at the first game. We started in August with pre-season conditioning, started official practices Sept. 18 and I hope that fans appreciate the hard work that these boys have put in."

Sexton said spectators would be expected to display Christ-like sportsmanship in their support of the team.

"Whatever we do at basketball games needs to serve the mission of us as Christians and the seminary as an institution, which is to live for the truth, the church, the world and the glory of God," he said.

"Bulldog spectators should emphasize encouragement of our basketball team, and there should not be a hint of disparaging remarks or behavior toward the other team or toward the officials."

Prior to the first home game, Boyce students will be able to celebrate having a sports team at a 1 p.m. pep rally on the Seminary Lawn. Aaron Filippone, resident supervisor at Boyce, said giveaways, prizes and games would be part of the fun. Several food selections will be available at 1:30 p.m., including "bulldogs" (hot dogs) and "junkyard dogs" (chili dogs).

Students can also support the team by helping decorate banners for the gym leading up to the first game. Interested students may contact Filippone.

The doors to the gym will open at 3 p.m. before the first game, and there is no admission charge. Sexton said the bleachers would be reserved for Boyce students, faculty and staff, and visitors with the other team, up until tip-off, and after tip-off the remaining seats would be open to everyone. The running track above the court will be reserved for faculty and staff of Boyce and Southern.

Sexton said the schedule is subject to minor changes. The most up-to-date schedule may be viewed online during the season at www.boycecollege.com.