Printer-friendly Version

E-mail Story
Bulldogs hang with tough, talented opponents to begin inaugural season
November 20, 2006
By David Roach and Garrett E. Wishall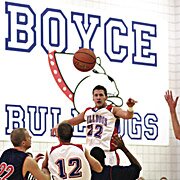 Center John Cabal leaps to throw a pass against Indiana University Southeast, Nov. 14. Cabal leads the Bulldogs in rebounds. Photo by John Gill
Five games into their inaugural season the Boyce Bulldogs have played four games against teams in higher divisions and one against a regional foe that finished in the top-10 nationally last year.

While the Bulldogs have not defeated any of these teams, they have stayed close in most of the games and look forward to settling into regional competition against teams on their own level.

Casey Smallwood, Boyce assistant coach, said if the Bulldogs continue to play as well as they have been then they will fare well in regional play.

"I think if we play at the same level that we have been playing at against teams in our own region and division then we will be very successful," he said. "I think we will surprise a lot of people with how successful we can be as a first-year team."

Nov. 14, the Bulldogs (0-5) lost at home to Indiana University Southeast (IUS), a NAIA II team, 101-79. Alex Lamberth and Greg Gibson led the Bulldogs offensively with 27 and 26 points respectively. Smallwood said IUS is the most athletic team Boyce will face all year.

"We are proud of our team because on paper IUS should have beaten us by at least 50 points, but our guys played beyond their ability and performed well," he said. "For us to be able to compete with them says a lot about our program and the heart of our guys. They continued to play hard throughout the game."

John Cabal also scored 10 points for the Bulldogs in the loss and led the team in rebounds.

Against Alice Lloyd College Nov. 11, the Bulldogs trailed by only eight points at halftime, but the Eagles, another NAIA II team, went on to win by 11, 97-86.

Smallwood said the squad put together an excellent first half and played well as a team.

"The first half against Alice Lloyd was the best first-half performance we have had thus far," he said. "In the second half, we hit a wall physically because we only have a certain number of guys to play. Alice Lloyd had an athletic point guard and wing and they were an excellent team. Alex Lamberth had a great night for us and Greg Gibson also played well. John Cabal has been holding us up in the post and rebounding-wise."

Lamberth, with 27 points, and Gibson, with 22, again led the Bulldogs in scoring and Cabal also posted double-figure points, scoring 14.

Nov. 9 against Mid-Continent University, Boyce cut a 16-point halftime deficit to three points in the second half, but the Cougars held off the Bulldogs, 84-77. Boyce also lost to Mid-Continent, a NAIA I team, in their season opener on the road. Gibson was the high man offensively for Boyce with 34 points, while Lamberth scored 19 and Cabal added 14.

The Bulldogs lone game against a divisional opponent came in their home opener Nov. 4 against Johnson Bible College. Boyce out-rebounded Johnson, 44-34, but the Preachers — who finished sixth nationally a year ago — still won the game, 88-78. Boyce and Johnson both compete in the Mid-East region of the National Christian College Athletic Association II.

Boyce head coach Bryce Hibbard said the game encouraged him.

"What a great scene of seeing people here," he said. "The crowd was great. Johnson was number one last year in this region, and we played them to 10. And we're going to get better. So I'm really proud of the guys."

After falling behind 38-23 at halftime, the Bulldogs were never able to cut the lead to less than 10. Gibson, who led Boyce with 30 points all in the second half, attributed the Bulldogs' first-half difficulties to nerves.

"With the first-game jitters at home we were kind of dead," he said. "We had the intensity in the first half, but when we came out in the second half we were a little more calm, and we were in a hole. We knew we had to get out of that hole, so we gave the intensity that much more."

Cabal scored 21 for the Bulldogs, and Lamberth added 15.

"Unfortunately we've gone through spots where we don't play as hard," said Hibbard, who has 20 years of high school coaching experience including a Kentucky state championship in 1997 and a state coach-of-the-year award in 2001. "Then we show how hard we can play. So if we can sustain that at the end of the year, we'll be in good shape."

Smallwood said the fan support thus far has been encouraging.

"We are loving the support we are getting from the school and the fans," he said. "In the same way that our players have been playing hard regardless of the score, our fans have kept cheering even when we get behind. Our crowd is very impressive."