Printer-friendly Version

E-mail Story
Hibbard resigns as Boyce basketball coach, turns reigns over to Smallwood
January 02, 2007
By Garrett E. Wishall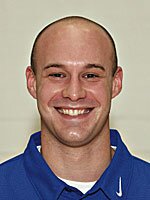 Casey Smallwood
The Boyce Bulldogs will have a new head coach Dec. 9 against Johnson Bible College as Bryce Hibbard announced his resignation, Dec. 5.

Hibbard cited the pressure of being a high school administrator and a desire to spend more time with his family as reasons for stepping down. The move will best serve the team, Hibbard said. Boyce is in the midst of its inaugural basketball season.

"I love coaching and I love working with young Christian men, but I was unable to devote the time and energy that coaching requires," said Hibbard, who serves as the assistant principal at Moore High School.

"I feel like I am on the mission field every day with my high school job, then I go home for an hour and a half to see my family and then I am off to practice. I don't have the energy to do a good job coaching like I thought I would be able to. For everyone, the Boyce program, my other job, my family, my health, I think it is better that I step down."

Casey Smallwood, 25, replaces Hibbard as the Bulldogs head coach, moving up from his assistant position with the team. Mike Music, assistant coach under Hibbard, will remain as an assistant under Smallwood.

Smallwood recognized the challenge ahead of him as head coach, but said he is excited about the role.

"We have a big challenge ahead of us as a team, and we are going to have to work hard," he said. "One thing I want to communicate to the team is that we have some tough times ahead of us, but we also have some great times ahead of us. As I coach, I know that we have a great opportunity to worship God in our conduct and our play."

Hibbard emphasized the personal nature of his decision, and said the team's winless record, 0-10, did not factor into his resignation.

"I was really proud of the effort the guys put in night in and night out as we have played a difficult schedule," he said. "I made a personal decision to resign that does not reflect the efforts or attitude of this team at all."

Lee Sexton, Boyce athletic director, said Hibbard's contributions have been invaluable and thinks Smallwood will help the Bulldogs' program continue in the right direction.

"I thank Bryce Hibbard for getting the Boyce basketball program started on a good foot with his wealth of knowledge and strong character," Sexton said. "Through his coming to Boyce, Hibbard paved the way for Casey to take over.

"We think Casey is going to do a fine job. Casey is a young guy chomping at the bit to coach, and he is going to bring a lot of energy and passion to the team. He brings a great passion for basketball, but also a great passion for discipleship."

Smallwood played for Male from
1 and served as an assistant coach at Bullitt Central High School in 2, helping Bullitt accomplish a 20-win season.

In December, Smallwood graduated from the University of Louisville with a bachelor of arts degree in political science, and he said he plans on beginning work
on a master's degree in education in the near future.

Smallwood's passion for discipleship translates into a desire to see the Bulldogs become a family on the court and develop relationships that will last beyond college.

"From a coaching standpoint, the best way to coach is to grow your team up into a family," he said. "When you develop that as a team, you can achieve anything. You can have a team of decent athletes, but when they come together as a team and a family then you can achieve great things. As a coach, that is where I want to take
this team.

"From a discipleship standpoint, coach Music and I will have intentional discipleship. We want to invest in the lives of these young men and grow up and experience life together.

"I would love to see these players in 10 to 15 years helping each other in their ministries, be it working together, coordinating with each other or at least calling each other and encouraging one another. I would love to see us grow so much together in Christ that we create a lifetime bond."

Smallwood's goals for the Bulldogs performance remain high, and he said he would make minor adjustments offensively and defensively, while maintaining the same basic structure.

"We will add and subtract some things and make some changes," he said. "On offense, you will probably see more screens set, some more team basketball and less of an open offense.

"Defensively, we would like to eventually be playing a high-pressure, half-court defense. One of our team goals is to hold a team under 70 points. We also have a team goal of winning eight of the next 16 games.

"I want to encourage the fans to continue to come and support our team. The support has been incredible and we can't ask for anything more than we what we have been receiving from the fans."