Printer-friendly Version

E-mail Story
Bulldogs earn first win, look for more
January 29, 2007
By Garrett E. Wishall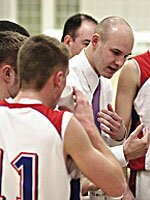 Casey Smallwood
While the Boyce Bulldogs recognize that ultimately it doesn't matter if they win or lose, it is still nice when you win.

The Bulldogs claimed their first victory Jan. 20, defeating Shawnee Baptist College, 85-75.

Boyce head coach Casey Smallwood said he was most excited about the team's composure in the win.

"I was proud of our guys because I thought we did a good job of representing more than just a basketball team," he said. "Our players did a great job of staying calm and not escalating a situation to another level. I was most proud of them for that."

With the game tied 41-41 at the half, the Bulldogs used their athleticism and 47 points from Greg Gibson to pull away.

"Shawnee was real scrappy and had a few real good athletes. Going into the game we were a little lackadaisical, but in the second half we really turned it on," Smallwood said. "We had far more athleticism than they did."

John Cabal added 19 points to help the Bulldogs improve to 1-17.