Printer-friendly Version

E-mail Story
Interview: Mohler discusses seminary's revised 'Master Plan'
November 24, 2003
By Bryan Cribb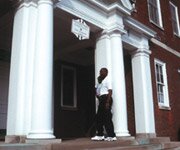 Rankin Hall, which now houses the seminary's Child Development Center, is being converted into classroom space as part of the seminary's revised "master plan." It will add 2,500 class-room hours per day. Photo by David Merrifield
To accommodate Southern Seminary's continuing growth, seminary trustees recently approved a revised "Master Plan." The plan includes such advances as new high-tech classrooms and parking spaces.

But it also required difficult decisions regarding some campus facilities, including Levering Gym and Rankin Hall, which now houses the seminary's Child Development Center.

The following is an interview with seminary president R. Albert Mohler Jr., who discusses these decisions, as well as the future of Southern Seminary.

Towers: What is the rationale behind revising the "Master Plan"?

Mohler: The plan is necessary for our stewardship and long-range fulfillment of the mission of the seminary. It's a discipline because it requires us to ask the right questions and to deal with the answers.

The reality is that our mission is to train, educate and prepare God-called ministers of the Gospel for service and to train the next generation of Christian leaders. And so, this planning process helps us to put our greatest emphasis towards that mission -- to make certain that we make every facility decision [based on] whether or not it helps to expand and enhance that mission.

Towers: And part of that mission includes finding new classroom space.

Mohler: The focal point of everything that takes place on this campus is the classroom. Teaching is the central assignment for this seminary on behalf of the churches. So, we put an intentional priority on maximizing every facility for academic purposes. And given the burgeoning enrollment of the seminary and the rapid expansion, it was clear that we would either build new classrooms or we would have to stop accepting students.

Towers: Talk about the tough decisions that had to be made in order to create space for these new classrooms.

Mohler: A part of our planning process over the last several years to enhance our stewardship has required us to separate core academic programs from auxiliary services. That's more than a technical distinction. It makes certain that tuition money does not go to pay for non-academic purposes. It ensures that students and churches are directing their fees and gifts towards the core academic purpose of the seminary. And that has to apply to buildings as well as budget. It's all a matter of priority.

And while we are proud the ministry of the Child Development Center over the years, the fact is that only a minority of the children enrolled in the center are children of our students. ...

We had to measure that need over against the reality that we could have upwards of 2,500 classroom hours in that building every day. That same decision-making process led us to the difficult decision to turn the Levering Gymnasium into classroom space.

The greatest need we have for the graduate program is large academic classrooms with high technology. The Levering Gymnasium is providentially structured to be just perfect for transformation into two very large high-technology classrooms. And by the time we get those outfitted, we'll be able to add about another 2,500 classroom hours.

That means we can multiply the effectiveness of the seminary. We can receive more students. And we can enhance the experience of the students who are here.

There are some programs in Levering Gymnasium that we can move to other facilities. We're going to be ... outfitting a special room in the Honeycutt Center in a renovated space especially designed for aerobics and for childcare for events.

Towers: What steps have been taken to help students who currently have children in the CDC?

Mohler: We were careful to be working on a transition plan when the decision was announced. It's a trustee decision as part of the whole "Master Plan," and so we could do very little until the time the trustees acted.

But immediately upon the trustee action, we moved towards a transition plan. The plan is already very generous in that we have provided more than seven months of time for parents to find other childcare.

Towers: What was the rationale behind reallocating space and services as opposed to building new buildings?

Mohler: There is a limit to how many buildings and how much space can be provided on this campus. We want to be very careful to protect and preserve the core academic mission of the seminary, to make certain that this seminary can accomplish what our churches assign us to do looking to the future.

The other needs -- very real needs -- of housing and auxiliary services can be met sometimes more efficiently by others than by the seminary itself. And we need to be open to partnerships that will allow us to make the best arrangement for our students.

Most visitors to this campus are struck by its beauty. Few understand that the plan of this campus is of such national significance. Designed by the firm of Frederick Law Olmsted, Southern Seminary's campus is a classic model of academic architecture in the nation's history. It preserves green space and the beauty of both the buildings and the landscape. And we are determined to be faithful to that plan. For that reason, construction here costs a little more than it would somewhere else. We will not put up a utilitarian building. It has to match the campus. This makes a statement about the Christian worldview -- about beauty and order and about the endurance of a mission. And that's important to us as well.

Towers: Talk about the sale of Village Manor.

Mohler: The Village Manor corporation has been an important part of Southern Seminary's housing resources for a long time. The fact is that reality has forced some hard decisions about the Village.

We have put about $15 million into that facility over the last 15 years. The fact is that Southern Seminary cannot invest what will be needed in that development to make it what we believe it should be or honestly to make it the kind of facility that we can be proud of over time.

We need to be honest and say that Southern Seminary needs housing resources, but we need those resources most importantly here on the campus and contiguous to this campus where we can build new facilities that will serve the needs of our students better than what we would be able to do at the Village.

By selling the property, a for-profit corporation can actually do much more with that facility -- given the tax laws and the investment strategies available to a for-profit investor -- than what Southern Seminary can do as an educational institution.

What Southern Seminary has had to do as we face a housing challenge is shared by virtually every private institution. If you are a public institution, you don't have to worry about it. The great trend is for private educational institutions to get out of the housing business simply because it is too expensive for us to be able to do it well.

Towers: So how does the revised "Master Plan" fit into the long-range goals of the seminary?

Mohler: The great news in all this long-range planning process has been that every conceivable indicator points toward the continued growth and expansion of both the enrollment and the impact of Southern Seminary.

We see that as an opportunity that God has given us. Our responsibility is to maximize that opportunity and be faithful to plan for the future. We want to make certain that Southern Seminary is even more faithful in the future than now and that it will have greater impact than we can even see today.